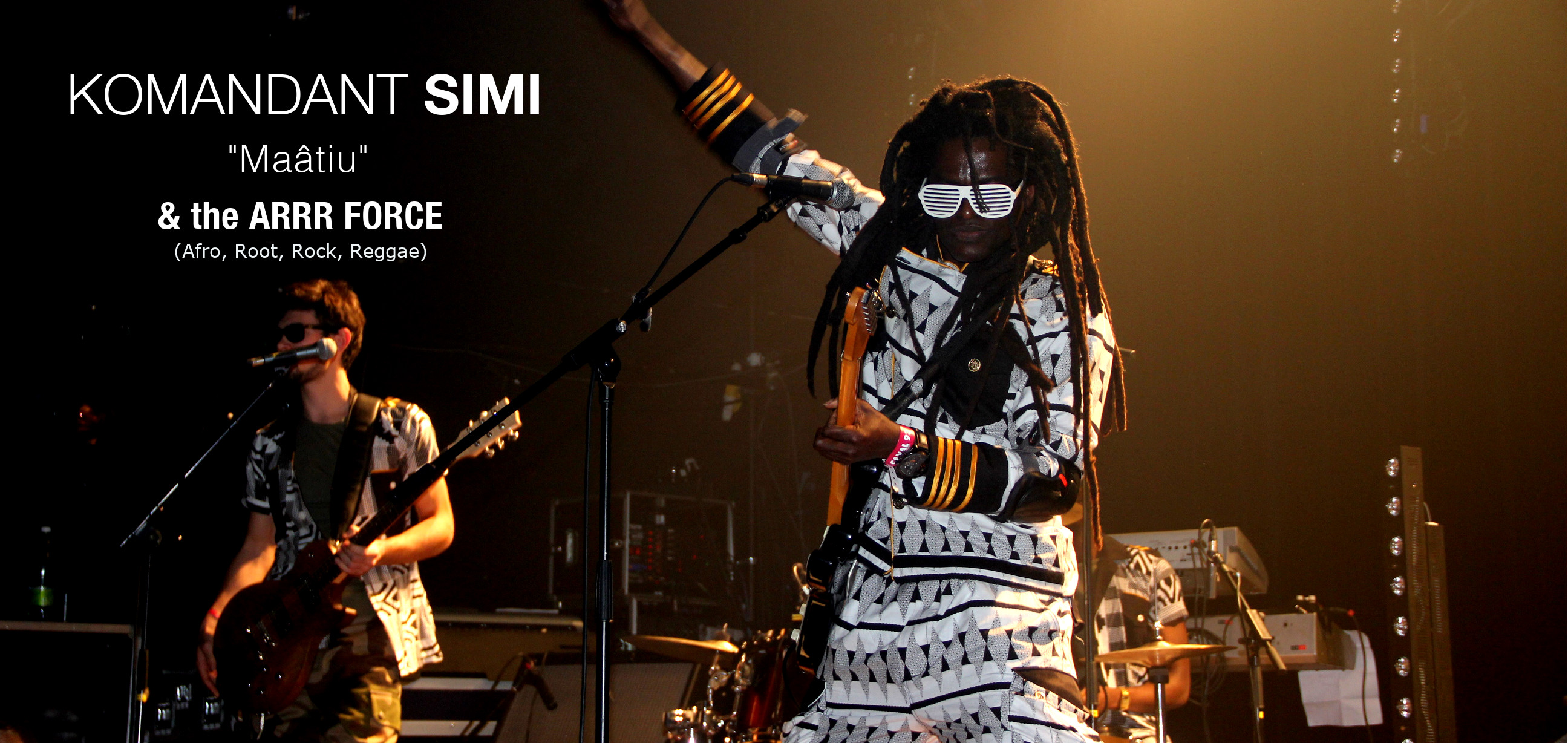 Check the 5 titles EP "SOS for Mama Africa" ​​already available!
Listen :
CD on sell at Librairie TAMERY : 19, Rue du Chalet 75010 Paris / Tel 06 10 82 29 18
CLIP : TOUT LE MONDE FUME
Live show : arrr force jam
Like an invitation to revel in those elixirs with flavors of joy and freedom, this a priori Reggae artist invites you to a crazy
cocktail of insolent styles: Afro, Root, Rock, Reggae.

A signature to mark his originality, without skimping at all on the verb that enchants, elevates, federates, soothes
and encourages respect for the universal order. Consequently, questions about the future of the planet allow him to arouse a relevant
look at the issues of the environment and overarmament. An "eco-citizen" act that fits well with subscribing to a positive parody,
pouring a lexicon as eccentric as it is meaningful, into the definition of the concept.

Indeed, K. Simi and his group ARRR Force, are the Squadron of Life, with an armament system based on sound ballistics.
A musical commando specialised in the launching of "song-bombs" of mas construction, on 4 fronts: Citizenship, Decolonization,
Environment, and Disarmament. An Improbable mission consisting in the respect of life and the restoration of the sacredness of Being…
In this priesthood where poetic cooking tolerates verbal rawness, Nouchi (street language of Abidjan)
and pidjeen (patois of English-speaking Africa) confer a fundamental character to what for K. Simi,
is inexorably part of the human cause: Africa liberation and sovereignty.
A fight in the perspective of the Kamit Renaissance, by the restoration of the sacred laws of Maat (Truth, Justice, Harmony).
Unwavering heir to Fela Kuti, Bob Marley, Jimmy Hendrix… and swimming in the Hip hop trend where Electro claims to be
a contemporary brand, K. Simi practices the improbable art of the Maatic philosophy: the triptych "Truth, Justice, Harmony"…
The hand does not wash alone! The left is destined to join the right to rub off the dirt… Old maxim drawn from African spirituality,
and reflecting the inexorable principle of living together, with respect for differences…
As part of the French musical landscape, K. Simi is known for his pan-African DNA, his awareness songs, his humanity and his
intransigence towards injustice. The claimed mark of his "kamitude", that he has always known how to value without hesitating
to step up in the media, to defend Africa and many noble causes. Of Ivorian-Nigerian origins and born in the popular district
of Treichville in Abidjan, he quickly found his marks in 93 "Seine Saint Denis", Paris suburbs.
[et_bloom_inline optin_id="optin_4"]